Grab Your Besties and Head to One of These Texas Destinations for an Unforgettable Girls Getaway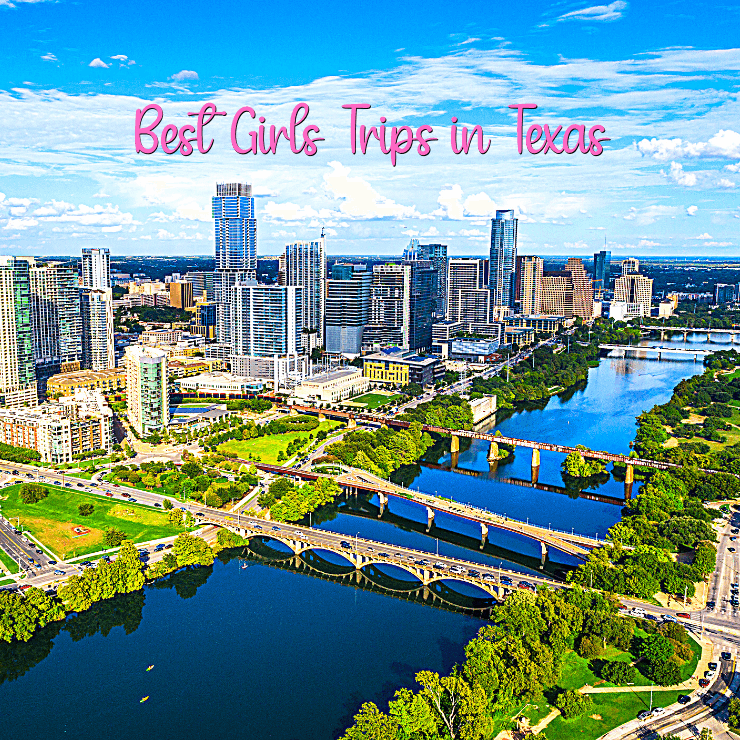 If you and your friends are looking to take a weekend trip together, Texas may have just the type of girls getaway you're looking for. From big cities to beachy resort towns, the Lone Star State has something for every traveler, including those on a girls trip! Whether you're aiming for a relaxing vacay on the beach or a memorable girl's night out, you're bound to be able to find the perfect girls weekend Texas spot for you and your best friends.
We chose the places below for being a great girls weekend in Texas since they are destinations known for their attractions, vibes, and various events held throughout the year. Plus places we love visiting ourselves!
No two spots in Texas offer the same trip experience so you may even want to visit more than one during your trip. Many of the most popular cities in Texas are close to one another, so you and your girlfriends can try to see as much of Texas as you can in 48 hours.
Before planning your trip, consider how well you and your friends can tolerate the Texas heat. The average temperature in July can reach the high 90s, and many cities also get extremely humid. Unless you already live in an area with hot, humid summers, consider visiting in the fall or spring. Many of the most popular festivals happen during these seasons, so you can avoid the heat without sacrificing fun.
Waco: A Fixer Upper Inspired Girls Getaway in Texas
If you and your girlfriends love shopping, or are huge fans of Chip and Joanna Gaines and their show, Fixer Upper, then Waco should be high on your list of Texas girls trip ideas.
In Waco, you'll find Magnolia Market, started by the Gaines and which has become a destination unto itself.
Magnolia Market is a one-stop shop for clothing, home décor, and accessories. You'll also find food trucks and a bakery here, so make sure you arrive on an empty stomach. Don't leave without spending time in the garden – it'll look beautiful on your Instagram feed!
There are also two wineries in Waco that are worth visiting. Alternatively, take a tour of Balcones Distilling, where you'll get to sample some spirits after seeing the distilling process in action.
Throughout the year, Waco hosts several festivals and events. The Heart O' Texas Fair and Rodeo takes place every October, and there's a Margarita and Salsa Festival in August. If your trip dates are flexible, check out the city's event calendar to catch an exciting event!
Quick links for a Waco Girls Trip
Best accommodations in Waco
Best activities in Waco
Girls Trip to Austin, Texas: Funky and Fabulous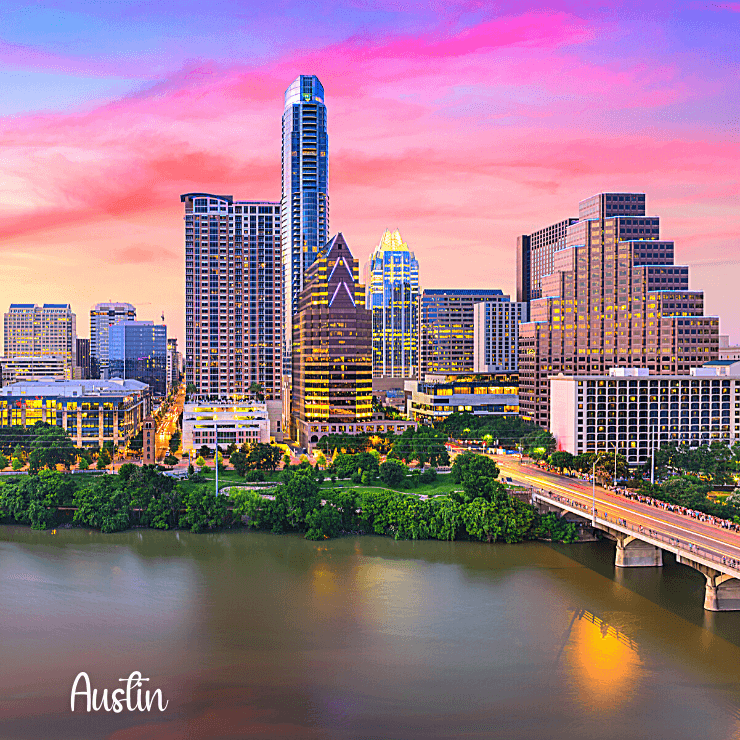 Since Austin has an airport and public transportation, this city is easy to visit for friends coming together in Texas from different locales.
Spend an afternoon window shopping on South Congress Avenue, where you'll find local landmarks like Allens Boots, Lucy in Disguise, and Yard Dog Art Gallery.
If you're getting a hotel here, stay close to 6th Street, where you can head for a night of live music and bar hopping.
Austin is also known for its parks, which visitors can enjoy year-round. Mayfield Park and Preserve is home to some beautiful peacocks, so don't forget to bring your camera if you stop by.
To experience Austin at its liveliest, visit during the South by Southwest festival in early spring. During that week, many venues host free concerts, autograph opportunities with celebrities, and film screenings to people who don't have festival passes. If you're looking to save on lodging, though, avoid visiting during a festival – rooms will be more expensive during peak travel weeks.
Quick links for a Getaway to Austin
Best accommodations in Austin
Best activities in Austin
—> Read More! We have a whole guide dedicated to taking a girls trip in Austin here.
San Antonio Girls Trip: River Walk Scenery and Fun
Not far from Austin is San Antonio, home to the popular River Walk attraction, which is a gorgeous pedestrian area that stretches alongside the river. It's where you and your friends will probably want to spend most of your time during a girls weekend in Texas if you're basing yourselves in San Antonio.
If you're visiting Texas over the summer, a great way to explore the River Walk area is on an easy, 3.5-mile long kayak trip. Afterwards, stop by the Alamo and Market Square, which is home to one of the largest Mexican markets outside of Mexico!
If you plan on staying in the River Walk area for dinner, book a reservation at Dick's Last Resort, where sarcastic servers poke fun at their patrons.
Even though it's a small part of San Antonio, you and your friends could easily spend an entire day on the River Walk!
But if you want to explore beyond River Walk, you'll be glad to hear that public transportation routes in San Antonio keep tourists in mind. You can take the VIVA Culture Route bus to the San Antonio Zoo, San Antonio Museum of Art, and other attractions from the Alamo Plaza. You can also rent a city bike from $12 a day.
While there's an airport in San Antonio, flights may be cheaper out of Austin. If you need to save on airfare, compare ticket prices at San Antonio International Airport and Austin-Bergstrom International Airport.
Quick links for vacation in San Antonio
Best accommodations in San Antonio
Best Activities in San Antonio
South Padre Island: Beaches and Parties
South Padre Island is known as a spring break destination, so head here if you're looking to party. It's also home to some great beaches bordering the Gulf of Mexico so perfect for a group of ladies looking for some beach time.
When you're not hanging out at the beach or finding party bars to go to, you can zipline at Island Adventure Park or try the 150-foot reverse bungee at Gravity Park. Spend your night at a popular bar with live music, like Wanna Wanna Beach Bar & Grill or The Quarterdeck – the fun doesn't stop when the sun goes down in San Antonio!
If you're on more of a budget, consider off-peak season; since South Padre fills with college students during spring break, this time of year depends to be more expensive. By avoiding the peak tourist season, you'll spend less on your hotel room and experience a more mature atmosphere.
Quick links for vacation in South Padre Island
Best accommodations in South Padre Island
Best Activities in South Padre Island
Dallas Girls Getaway: Culture and Cowboys
As a cultural hotspot, there are plenty of cool museums to visit in Dallas, like the National Video Game Museum and the Dallas Museum of Art.
You can also spend some time learning about the area and the historical events that took place here, particularly regarding the JFK assassination.
For the perfect day in Dallas that blends culture, history, and nightlife, check out our One Day in Dallas itinerary here.
If you and your girlfriends are into sports, watch the Dallas Cowboys or Mavericks play a home game (or watch away games at a sports bar and soak up the atmosphere).
Dallas is so close to Fort Worth that you might as well see both cities at once. Discover the Old West at the Fort Worth Stockyards, an attraction with museums, a saloon-style bar, and themed entertainment. Alternatively, head to Sundance Square to browse some boutiques and art galleries.
The DART public transportation system will get you from Dallas to Fort Worth, so you can save on gas or car rental costs while you explore this part of Texas.
Quick links for a Girls Trip in Dallas
Best accommodations in Dallas
Best activities in Dallas
Enjoy Your Trip in Texas With Your Best Girls!
Texas is filled with fun places to visit with your friends. Even if your trip will only be a quick 2-day weekend getaway, you and your squad are in for a treat if you visit any of these destinations. With so many things to do in the Lone Star State, prepare to make memories that will last a lifetime!
Need some more girl getaway ideas? Check out our other articles about the best girls trip destinations:
Best Girl Getaways in the USA
Best Places for a Girls Trip in California
Best Girl Trips in the Pacific Northwest