Top 10 Winter Getaways for Families in the U.S.A
Today we are going to be sharing 10 popular winter vacation spots that are an excellent fit for families. There are so many incredible winter getaway spots for families in the U.S. that allow you to enjoy each other's company and indulge in winter activities, but we think the 10 destinations below stand out. Read on for why!
1. Lake Tahoe, California
Lake Tahoe is known for its incredible slopes made perfect for skiing, snowboarding, and tubing. Lake Tahoe is the perfect spot for ski-loving families and enjoying your winter vacation together.
Spend the day out in the snow and then head inside to snuggle up by the fire and enjoy some dinner, hot chocolate, and maybe some holiday treats.
Read More: Best Small Cities in California
2. Breckenridge, Colorado
Breckenridge is home to the Breckenridge Resort which is famous for its high alpine terrain and five incredible peaks. The resort offers skiing, tubing, and snowboarding as well as lessons for those that need to learn before hitting the slopes.
Breckenridge Resort offers various events, festivals, and activities to do not just in the winter season but all year round.
3. Santa Claus, Indiana
Yup, there's really a city named Santa Claus and it's in Indiana!
Santa Claus, Indiana is the epitome of a perfect Christmas vacation spot. The town is fully equipped with everything you can imagine for the perfect Christmas including meetings with Santa, actual reindeer, and a plethora of amazing Christmas décor.
If you are in the Midwest area, in particular, I would highly recommend checking out this sweet town.
Read More: Best Day Trips From Cincinnati, Ohio
4. Gatlinburg, Tennessee
I always think of Gatlinburg, Tennessee as the perfect family vacation spot, no matter what time of the year it is, so the winter is no different.
Gatlinburg is just such a family-friendly destination that you will be sure to have a great time. One of my favorite things to do is snuggle up with the family in the cabin while enjoying the beautiful views of the Smoky Mountains. Not to mention, Gatlinburg has so many beautiful events, festivals, and shows during the holiday season which makes it perfect for a winter family getaway.
5. Adirondacks, New York
The Adirondacks are a perfect family vacation spot year-round but during the winter season, they are known as the Land of Wonder. The beautiful snow makes for beautiful sights to see and so many winter festivities to partake in.
The Adirondacks host a variety of winter festivals and carnivals including the Saranac Winter Carnival, the Inlet Frozen Fire & Lights, and the Indian Lake SnoCade.
Read More: Best Weekend Getaways in Upstate New York
6. Aspen, Colorado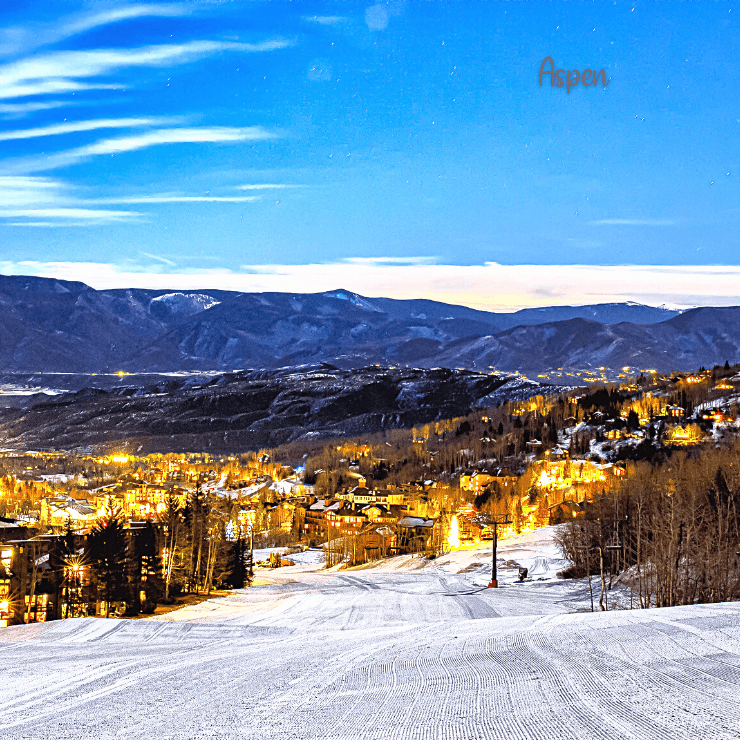 Aspen, Colorado is another absolutely beautiful mountain city that makes for a truly fantastic family winter vacation spot.
There are four Aspen mountains to experience, Aspen Snowmass (some beginner trails but mostly geared toward intermediate and advanced skiers), Aspen Mountain (best for intermediate skiers), Aspen Highlands (best for advanced skiers), and Buttermilk (best for beginner skiers).
In addition, there are some other fun winter experiences in Aspen, including the Alpine Coaster, Dogsledding at Twilight, and The John Denver Sanctuary.
7. New York City, NY
New York City is one of the most beautiful sights I have seen when it is fully decorated for the holiday season. Between Times Square being lit up and the huge tree at Rockefeller Center, this is the place to go if your family loves Christmas lights.
Don't skip out on other fun winter activities when visiting NYC in winter, including ice skating in Central Park or seeing Christmas Broadway shows such as the Nutcracker or the Rockettes.
Read More: How to Spend 24 Hours in New York City
8. Boston, Massachusetts
Winter in Boston is not for those that can't handle frigid weather. Temperatures in Boston can drop well below freezing throughout the winter season. Still, if you can brave the cold, Boston can be a magical place in winter.
Boston hosts several fun winter activities including sledding in the Boston Common, snowshoeing at Gore Place, the Museum of Fine Art's Festival of Lights, and a First Night Celebration that is held on New Year's.
The Freedom Trail is a very fascinating piece of history for kids and adults alike. It is incredible at any point in the year, but walking it during the winter is extra special because it is lit up with Christmas lights, making it that much more enjoyable.
Read More: Best Winter Getaways in New England
9. Big Sky, Montana
Big Sky Resort is a great family-friendly resort filled with plenty of winter activities to keep your family busy during your winter family vacation.
Big Sky Resort has an impressive kids program with ski lessons and onsite childcare available, giving parents the chance to hit up some of the harder slopes on their own while knowing their kids are having fun back down the mountain.
In addition to skiing and lodging at the resort, there are so many other incredible experiences including snowshoeing, cross-country skiing, dog sledding, sleigh rides, and snowmobiling. Tour companies operate out of Big Sky and can arrange your perfect winter excursion in Montana.
10. Lawrenceburg, Indiana
If you are in the Midwest and are looking for a great place to hit the slopes, Lawrenceburg, Indiana has a hidden gem conveniently located for visitors: Perfect North Slopes.
Perfect North Slopes offers skiing, snowboarding, and snow tubing and is perfect for those of all skill levels. In fact, if you need lessons, they are offered as well.
In addition to winter activities, Perfect North also has The Lodge which offers food and beverage options, shopping, and of course lodging (the Slopes partner with nearby hotels to allow for packages that provide savings on lodging and services at Perfect North Slopes).
Hope You Have a Wonderful Winter Family Trip
Whether you're looking to hit the slopes or simply enjoy the beauty of the winter wonderland outside – there is a destination sure to fit all the needs of your family on the list above.
With temperatures dropping quickly, be sure to book your family vacation soon! Any of the options listed above will make for a great way to spend some quality time with friends, family, and the ones you love throughout the holiday season and into the January, February, and March.